Direct mail marketers can now send a digital preview image of their print piece in an email to recipients with a new service from the United States Postal Service. USPS Informed Delivery enables consumers, after they sign up for the service, to view images of all their incoming mail before it arrives in the mailbox. It also includes a "ride along" digital ad opportunity for marketers where a URL can be interested into the email next to the scanned image of their direct mail piece.
For direct mailers, the best part of Informed Delivery is that the Post Office is offering this program at no charge!
USPS Informed Delivery was launched in the summer of 2017. It integrates hard copy mail with digital advertising to provide multiple impressions and interactivity that increase response rates. Since consumers receive an email with a digital view of their daily household mail before it arrives in the mailbox, marketers have the opportunity to create anticipation and drive greater interest in their offerings.
Consumers are signing up for Informed Delivery in large numbers. As of February 2018, more than 8 million mail recipients were signed up for it. According to a USPS survey, 95% of those who have signed up for Informed Delivery are happy with the service. Meanwhile, 88% of those receiving Informed Delivery email are opening their messages in the morning before the mail is delivered to their house.
How does the marketing feature of Informed Delivery work?
The images included in the daily email are grayscale scans of the address panel side of each mail item.
Once a marketer signs up for an Informed Delivery campaign, supplemental content can be provided to the USPS that will be displayed in a full color "ride along" next to the grayscale scan of their piece.
Marketers can also include a URL in the "ride along" image that can be clicked on by the consumer and directed to a website or other media such as a video for further information or action.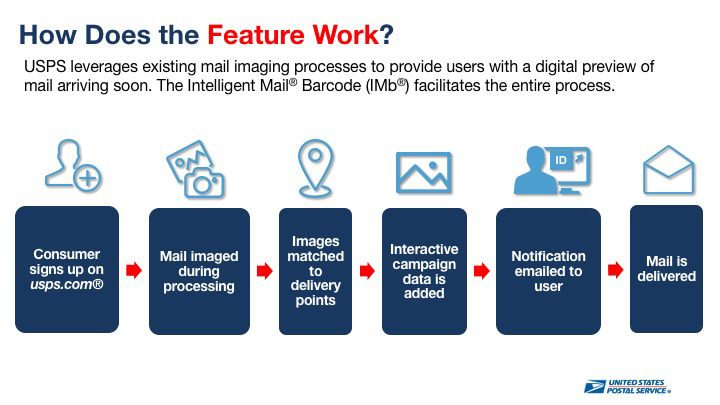 The demographics of the consumers who are signing up for Informed Delivery are very attractive customers of the following industries:
Financial services
Retail
Telecom
Insurance
Ecommerce
Government
Once the Informed Delivery marketing campaign has concluded, the USPS offers analytics to measure effectiveness. Numbers of users, email open rates and click-through statistics are shared with Informed Delivery marketers. Campaigns can be launched and analytics accessed from an online USPS Mailer Campaign Portal.
At Printwell, we are always looking for opportunities to help our customers experiment with new and innovative solutions that improve their direct mail campaigns. We think this is an excellent time for direct mailers to try the new omni channel marketing opportunities opened up by Informed Delivery. Contact your Printwell account representative today to schedule a consultation on the advantages of enhancing your next direct mail program with the new offering from the United States Post Office.