As of February 2019, the US Bureau of Labor Statistics (BLS) has stopped publishing employment figures for "printing and related support activities" as part of its monthly Current Employment Statistics reporting.
According to its "Notice of Publication Changes with the Release of Data on February 1, 2019," the bureau decided to stop tracking the printing industry because "Some industries no longer have sufficient sample to be estimated and published separately and were discontinued …"
In other words, according to the US Labor Department, the printing industry has become too small and insignificant to follow and analyze as part of its monthly employment statistics reporting.
Actually, the BLS announcement comes as no surprise. As pointed out by Michael Makin, President & CEO of the Printing Industries of America, the US government definition of printing jobs has long been superseded by changes in the industry.
Makin wrote on February 11 that PIA "has urged the Bureau of Labor Statistics multiple times over a number of years to revise its outdated definition of the printing industry. … Unfortunately, the BLS has demonstrated it is less than interested in keeping up with the times and in collaborating with PIA on modern industry definitions that would more accurately reflect that print is alive and thriving as a key manufacturing sector."
What are the economic facts about the printing industry?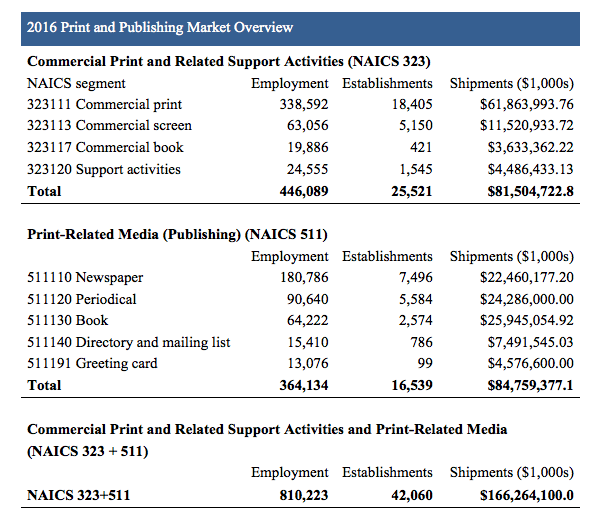 The three categories that the BLS has stopped tracking—printing, commercial screen printing and printing support activities—comprise approximately 446,000 jobs, 25,500 establishments that generate $82 billion in combined annual sales.
According to economists that follow the printing industry closely, there was a decline in employment in these groups between 2010 and 2018 of 44,000 jobs or approximately 10%. However, it is incorrect to assume that this trend is entirely due to the industry becoming insignificant.
Andrew Paparozzi, chief economist of the Specialty Graphic Imaging Association (SGIA), says that the numbers don't tell the true story. "In fact, we're actually expanding and becoming even more important to the American economy." The decline in employment numbers was more the result of ongoing productivity advancements not due to a decline in demand. This is proven by the fact that sales per employee are actually up 24.4%.
Meanwhile, when printing and related support activities are combined with the another BLS category called, "Print-Related Media (Publishing)," the economic impact of print doubles to more than 800,000 jobs, 42,000 establishments and $166 billion in annual sales.
Just as the printing industry is growing again for the first time since the Great Recession of 2008—PIA is forecasting a 1 to 2 percent growth in revenues for 2019—the US Labor Department is contributing to the myth that the industry is dying or even dead.
As was reported on this blog last December, printed books and other forms of print media are making a comeback due to continued public enthusiasm for ink-on-paper and sources of information that are not tainted by credibility problems.
At Printwell, we are committed to keeping customers informed about changes to the printing and related industries. Please contact your account representative for a consultation or send us a message here and someone from our sales team will get in touch with you.